The chief
Home > The chief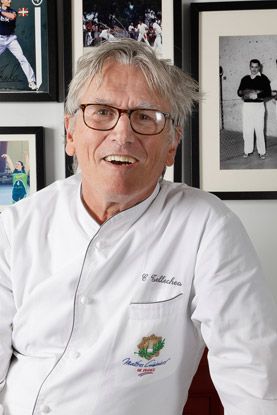 The TELLECHEA restaurant was founded on May 10th, 1955 with the arrival of my parents, Jean and Ana TELLECHEA, who took it over from the LARREGUY family, who were also restaurateurs.
For two generations, the Tellechea family has worked in this former relay station built in 1715. The purchase contract found in the town archives makes this ancestral house the oldest inn in Bayonne.
Jean and Ana TELLECHEA welcomed all sorts of different customers in three rooms : smugglers from Sare, fishermen, workers, Bayonne notables..
Throughout my childhood and my adolescence, I enjoyed this environment and in a very natural way, as it was my destiny, I moved towards this profession. I became a cook and it was a privilege to remain by my father side, it was luxury to be able to exercise my practice my profession in our restaurant.
To perfect my training, I went on many courses, especially at « TROISGROS », « Lameloise », « GROULT » and Robert LYNXE (Grand Chocolatier from the area)...
1981 At the age of 23 years old, I succeeded my father
1986 Complete refurnishing of the inn into a Gourmet Restaurant.
1989 Clef d'Or Gault-Millau
1995 One Michelin Star and two "Toques" in Gault et Millau
2005 Master Cook of France, supported by Gabriel BISCAY (best cook in France in 1982) and Maurice ISABAL (Restaurant Ithurria).
On the 50th anniversary birthday of the arrival of the TELLECHEA family in this place, we wanted to renovate the CHEVAL BLANC » and thus to recreate the environment of the three rooms of yore. After restauration, we are able to satisfy private and professional requests for meetings and family events.
Always accompanied by my faithful team, it is with the same passion that we like to use the local products : from ham to hake with émincé of onions, poultry juice and sweet peppers in Xamango Parmentier way and not least the desserts with Bayonne chocolate, a must in this region.